Contact Us

SINOLIFT MATERIAL HANDLING EQUIPMENT CORP.
Add:No. 2471-2477 Dachuan Road, Nanhui Industry park, Pudong new District, Shanghai, P.R.China 201314.
Tel:021-68014500 58003681
Fax:021-68014262
Email:sales@sinolift.com
Website:www.sinolift.com
Contact Person:Mr. David deng
Mobile:0086-13817572420
Skype:sinolift
Name:L series I.C. Forklift
Model:L series I.C.
Product Introduction:L series I.C. Forklift
 Characteristic:
1) Streamlined exterior and high-strength frame
2) Comfortable driving room and mini steering wheel
3) transverse steering axle as Buffer device
4) Reliable special designed instrument
5) Overhead intake system,Integral hood,effectual in heat insulation and noise reduction
6) Imported diesel and gasoline engines can be option to save energy and increase efficiency.
7) Choose gasoline and LPG as power according to customers'demands
 SPECIFICATIONS:
1) Rated capacity (kg): 1500,2000, 2500, 3000, 3500
2) Max lifting height (mm): 3000, 4000, 4500, 4800, 5500, 6000
3) All kinds of attachments for special function available
4) Diesel engine: Japan Isuzu ,Yanmar,Nissan or Chinese engines.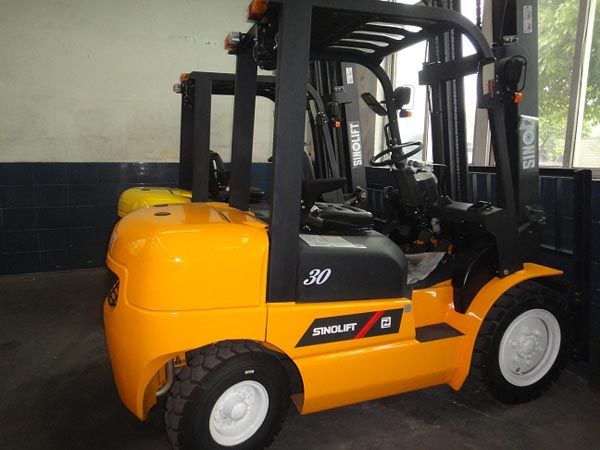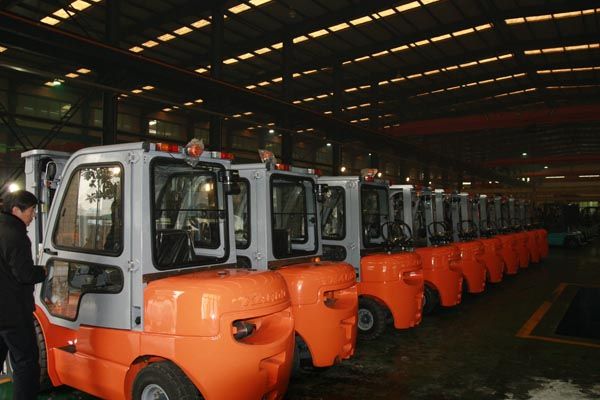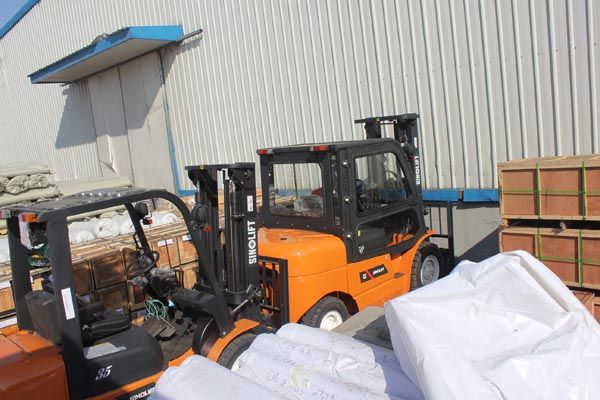 Manufacture

 
SINOLIFT L Series 1.0T-3.5T Diesel Forklift Specifications
Model
 
CPC(D)10-X1
CPC(D)15-X1
CPC(D)18-X1
CPC(D)20-X2
CPC(D)25-X2
CPC(D)30-X2
CPC(D)35-X2

CPC(D)10-W1

CPC(D)15-W1

CPC(D)18-W1
CPC(D)20-W1
CPC(D)25-W1
CPC(D)30-X3
CPC(D)35-X3
*****
*****
*****
CPC(D)20-W3
CPC(D)25-W3
CPC(D)30-W1
CPC(D)35-W1
*****
*****
*****
*****
*****
CPC(D)30-W2
CPC(D)35-W2
Power type
 
Diesel
Diesel
Diesel
Diesel
Diesel
Diesel
Diesel
Rated capacity
kg
1000
1500
1750
2000
2500
3000
3500
Load center
mm
500
500
500
500
500
500
500
Lift height
mm
3000
3000
3000
3000
3000
3000
3000
Free lift height

E
mm
164
164
164
140
140
145
145
Fork size

N×U×L
mm
920×100×40
920×100×40
1070×120×40
1070*120*40
1070*100*45
1070*125*45
1070*130*45
Mast tilt angle

α / β
deg
6/12
6/12
6/12
6/12
6/12
6/12
6/12
Front overhang

A2
mm
436
436
436
482
482
501
501
Overall dimensions
Length to face of fork

A1
mm
2180
2235
2270
2510
2580
2720
2720
Overall width

B1
mm
1095
1095
1095
1150
1150
1225
1225
Mast lowered height

H1
mm
1995
1995
1995
1995
1995
2070
2070
Mast extended height

H3
mm
4030
4030
4030
4037
4037
4272
4272
Overhead guard height

H2
mm
2075
2075
2075
2060
2060
2090
2090
Turning radius

R
mm
1890
1960
2000
2170
2240
2460
2460
Min. right angle aisle width

X
mm
1720
1780
1820
1920
2010
2110
2190
Travel speed (no load / full load)
Hydraulic
km/h
14.5/13.5
14.5/13.5
14.5/13.5
17/19
17/19
17/19
17/19
Mechanical
Shift

I
6/5.5
6/5.5
6/5.5
8.5/9
8.5/9
8.8/9
8.8/9
Shift

II
14/13.5
14/13.5
14/13.5
18.5/19
18.5/19
18.5/20
18.5/20
Lift speed (full load)
mm/sec
450
450
450
450
450
400
360
Max. gradeability

%
20
20
20
20
20
18
15
Self weight

kg
2340
2740
2943
3550
3880
4380
4750
Tires
Front
 
6.50-10-10PR
6.50-10-10PR
6.50-10-10PR
7.00-12-12PR
7.00-12-12PR
28*9-15-14PR
28*9-15-14PR
Rear

 
5.00-8-8PR
5.00-8-10PR
5.00-8-10PR
6.00-9-10PR
6.00-9-10PR
6.50-10-10PR
6.50-10-10PR
Tread
Front

B2
mm
890
890
890
970
970
1000
1000
Rear

B3
mm
920
920
920
970
970
970
970
Wheelbase

A3
MM
1400
1400
1400
1600
1600
1700
1700
Ground clearance (full load / no load)
Mast

M

mm
95/105
95/105
85/105
85/105
85/105
110/135
110/135
Frame

F

105/115
105/115
105/115
100/105
100/105
130/135
130/135
Engine
Apply to truck model

 
CPC(D)10/15/18-X1
CPC(D)10/15/18-W1
CPC(D)20/25-X2
CPC(D)20/25-W1
CPC(D)20/25-W3
CPC(D)30/35-X2
CPC(D)30/35-X3
CPC(D)-30/35-W1
CPC(D)30/35-W2
Model

 
XINCHAI NB485BPG
ISUZU C240PKJ
XINCHAI 490BPG
ISUZU C240PKJ
ISUZU HJ493
XINCHAI 490BPG
XINCHAI 495BPG
ISUZU C240PKJ
ISUZU 4JG2
Rated output

kw/rpm
30/2600
34.5/2500
37/2650
34.5/2500
39/2500
37/2650
42/2650
34.5/2500
44.9/2450
Rated torque

N.m/rpm
131/1800
139/1800
148/1900
139/1800
165/1800
148/1900
174/1800-2000
139/1800
186.3/1600-1800
No.of cylinder

 
4
4
4
4
4
4
4
4
4
Bore × stroke
mm
85*100
86*102
90*100
86*102
92*93
90*100
95*105
86*102
95.4*107
Displacement

L
2.27
2.369
2.54
2.369
2.771
2.54
2.98
2.369
3.059