Contact Us

SINOLIFT MATERIAL HANDLING EQUIPMENT CORP.
Add:No. 2471-2477 Dachuan Road, Nanhui Industry park, Pudong new District, Shanghai, P.R.China 201314.
Tel:021-68014500 58003681
Fax:021-68014262
Email:sales@sinolift.com
Website:www.sinolift.com
Contact Person:Mr. David deng
Mobile:0086-13817572420
Skype:sinolift
Name:CPDS AC system Mini Electric Forklift
Model:CPDS
Product Introduction:CPDS AC system Mini Electric Forklift
 Characteristic:
The distinctive features of the new CPDS series electric three-wheel forklift feature:
• Versatility of use due to compact design and minimal operating
space requirements. Compact dimensions combined with superb
maneuverability.
• High stability, both when stationary and cornering, due to long
wheelbase, low centre of gravity and wide tyres.
• Economy of operation, resulting from minimized maintenance costs,
e.g. Low-wear brakes.
 SPECIFICATIONS:
1) Rated capacity (kg): 1500, 1800
2) Max lifting height (mm): 3000, 4000, 4500, 4800, 5500, 6000
3) Controller model: Italian SME.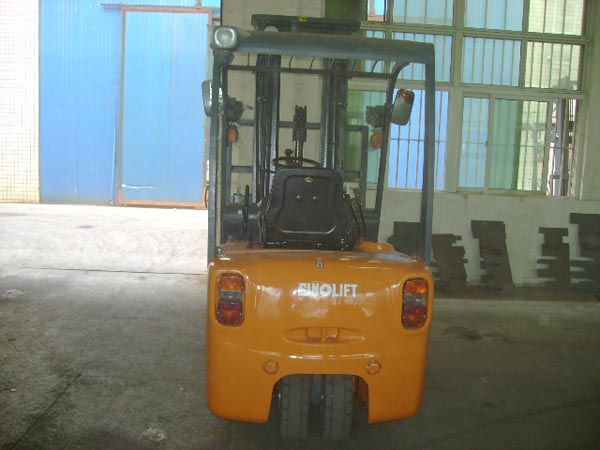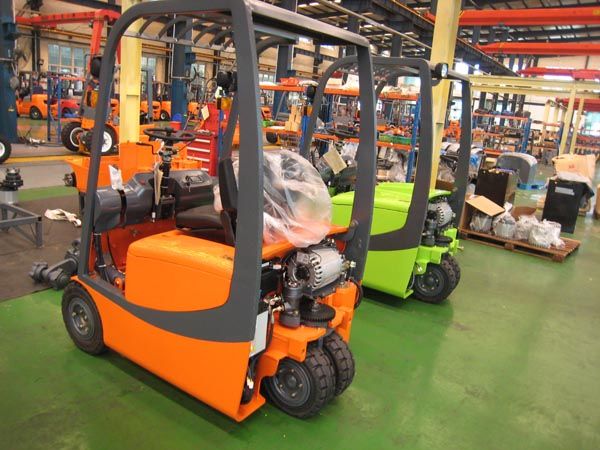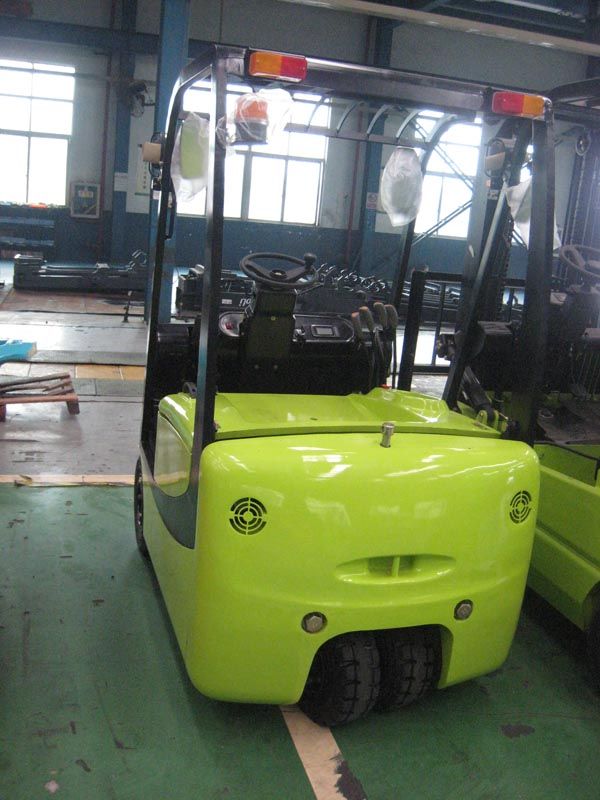 Characteristics
Manufactuer
 
SINOLIFT FORKLIFT
Model
 
CPDS15
CPDS18
Rated capacity
kg
1500
1750
Load center
mm
500
Power type
 
Battery
Tyres

 
Super elastic
No. of tyres (front/rear)
 
2/2
Dimensions
Lift height

B

mm
3000
3000
Free lift height

E

mm
130
130
Fork size

NxUxL

mm
35×100×920
35×120×920
Upright tilt(forward/backward)

K/T

deg
5/7
Overall dimensions
Length to fork face(with forks)
mm
2780
2830
Length to fork face(without fork)

J
mm
1860
1910
Wheel width
mm
1050
Overall width

W

mm
1070
Height with mast lowered

C
mm
1980
Height withmast extended

A
mm
3945
Height of overhead guard

D
mm
1990
Turning radius(outside)

P

mm
1500
Front overhang

G

mm
360
Right-angle store aisle (pallet 800x1200,1000x1200)

RASA
mm
2860/3060
2910/3110
Performance
Travel speed(with/without load)

km/h
13.2/14.3
12.8/14
Lifting speed(with/without load)
mm/sec
300/470
Lowering speed(with load)
mm/sec
450
Max. pulling force

KN
14.84
13.08
Grade ability(with load)
%
20
19
Weight
Service mass(including battery)
kg
3100
3260
Load per axle
Full load (front/rear)
kg
4020/560
4300/640
Without load (front/rear)
kg
1540/1540
1480/1740
Chassis
Tyres size
Front
 
18×7-8 PR
Rear
 
16×6-8 PR
Wheel base

F

mm
1295
Wheel tread
Front

Q

mm
895
Rear

S

mm
205
Ground clearance
Mast

H

mm
80/85
75/85
(full load/without load)
Frame

M

mm
100/110
Service brake
 
Hydraulic
Power unit
Battery
Type
 
Ironclad plates
Voltage/capacity
V/Ah
48/505
Mass
kg
850
Electric motor
Traction, power
kw
5.5×2
Lift,power
kw
8