Contact Us

SINOLIFT MATERIAL HANDLING EQUIPMENT CORP.
Add:No. 2471-2477 Dachuan Road, Nanhui Industry park, Pudong new District, Shanghai, P.R.China 201314.
Tel:021-68014500 58003681
Fax:021-68014262
Email:sales@sinolift.com
Website:www.sinolift.com
Contact Person:Mr. David deng
Mobile:0086-13817572420
Skype:sinolift
Name:GTWY Aerial Work platform (Tandem mast)
Model:GTWY
Product Introduction:GTWY Aerial Work platform (Tandem mast)
1.Suitable for 1-2 person to work upraised with better loading capacity;
2.Two masts are descended or ascended synchronously;
3.Entire lifting unit with guardrail offers such high intensity and convenient installation and disassembling that it could complete assembling or disassembling through lifting only once;
4.Easy maneuvering and with straddle legs similar to that of single mast aerial work platform;
5.Conforms to CE;
6.Available accessories: mast stand, auxiliary for step use, side-sheer unit;
7.Power Supply: Single phase AC as standard;DC or both AC as option.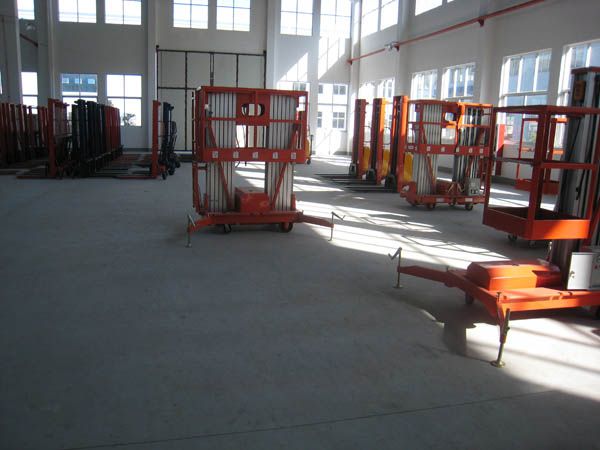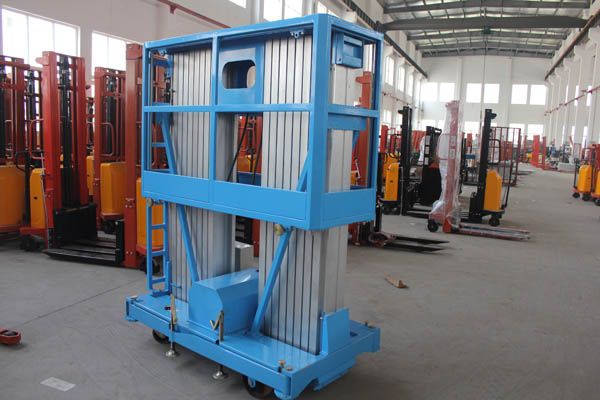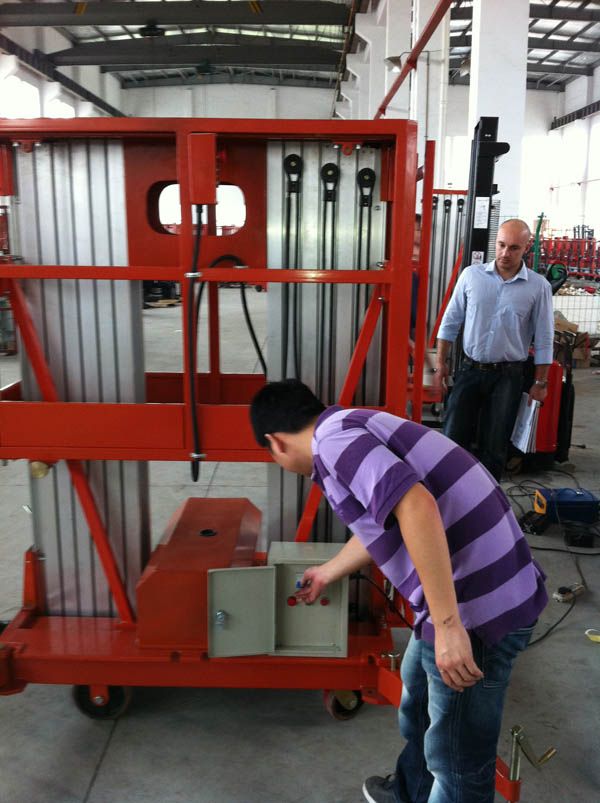 Model No.
 
GTWY6-2000
GTWY8-2000
GTWY10-2000
GTWY12-2000
Mast
 
 
Dual Mast
Max. Platform Height
mm
6000
8000
10000
12000
Max. Machine Height
mm
7050
9050
11050
13050
Min. Platform Height
mm
1800
1800
1800
2020
Ground Clearance
mm
80
80
80
80
Lift Rated Capacity
kg
300
300
250
200
Platform Size
mm
1210×600
1210×601
1450×600
1450×601
Outspread Size
mm
1880×1760
1880×1761
2220×1960
2250×2570
Electrical Source
AC
v
220-240
220-241
220-242
220-243
DC
v
12
12
12
12
Aneroid Battery
V/Ah
2×12/75
2×12/76
2×12/77
2×12/78
Charger
V/A
12/15
12/16
12/17
12/18
Lifting Motor
AC
V/kw
220/0.75-1.5
220/0.75-1.6
220/0.75-1.7
220/0.75-1.8
DC
V/kw
12/2.5
12/2.6
12/2.7
12/2.8
Overall Length
mm
1560
1560
1790
1790
Overall Width
mm
840
840
840
890
Overall Height
mm
1810
1810
1810
2030
Overall
AC
Kg
570
630
730
825
Net Weight
DC
kg
610
670
770
865